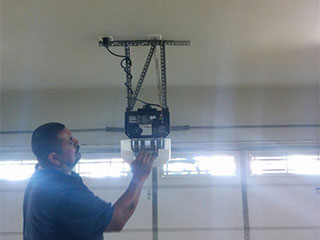 Why Does It Matter?
Your opener is a bit like the engine of it the operation. It's the part of your garage door that's responsible to power everything. Obviously, you'll want to know that you can rely on your door to always be ready to work when you want it to. This makes getting your new opener from a trustworthy manufacturer all the more important. Here are a few to consider:
The Chamberlain Group!

As the largest garage door opener manufacturer in the world, it's not surprising that they have a vast variety of models that can cover just about any need one might have. The Sears-specific Craftsman line is theirs, as well as the Lift Master and Elite brands. To be used by a company like Sears especially should tell you that what they produce is high-quality and dependability. Whether you're looking for a wall mounted opener, or something quiet like the Whisper Drive line, they've got you covered.

The Overhead Door Corporation!

You might not have heard of this manufacturer, but you've likely heard of one of the companies owned by it: Genie. Genie is one of the most well-known brands, particularly when it comes to the screw drive type of opener. Now that it's owned by The Overhead Door Corporation, which was founded by a man named C.G. Johnson who created the first electric garage door opener, their dependability has only become more certain. Their ground-breaking designs over recent years have truly elevated them to a worthy status of being one of the best.

Marantec Garage Door Openers!

Although they are a bit of an unfamiliar name, they shouldn't be. They are a German-based company, so if you find that you tend to prefer German engineering in most cases, such as with cars and otherwise, this manufacturer would be a good bet. They're known for producing superior products that are far quieter than most, and are very sturdy as well. They tend to employ either a chain drive or a belt drive in their models.
For further consultation, or any opener related problem, be sure to contact our Garage Door Repair Folosm team today!