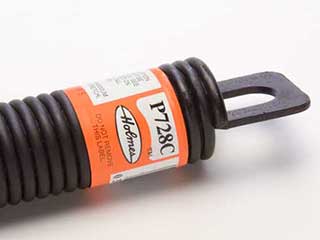 They may look like ordinary coiled steel parts, but garage door springs are much larger in size and much stronger. For heavy duty doors, these steel coils must be extremely durable, and they are therefore usually oil-tempered.
Since the role of both torsion and extension springs is to balance and lift the door, they must be able to produce a force equal to its weight. They can vary in terms of length, parts, wire size, inside diameter and lifespan. Most common types are manufactured to last for about 10,000 cycles.
At the end of a life cycle, the accumulated wear and tear can cause a sudden break. In order to avoid such a problem, it's best to replace old parts before they snap.
Torsion Spring adjustment
Springs exhaust a lot of energy in order to move the door and therefore suffer some wear and tear damage every time they do so. What adjustment does is compensate for that loss. Tension is added by turning the winding cone with the right winding bar. If you want to check the balance of your door and find out if there is a need for adjustment, disengage the opener and lift the door mid-way. If the door slowly moves down, tension should be added. If the door moves up, tension should be released.
Regular Maintenance Schedule
Sometimes things can break down prematurely. This happens when the material is chipped, rusty and dried out or when the door is replaced with a heavier one, which is unsuitable for the existing springs. In order for you to avoid such a scenario and the hassle that comes along with it, routine maintenance is necessary.
Professional Assistance is The Best Way To Go
Since springs are vital parts of the garage door system, it won't open if they are broken. Our team at Garage Door Repair Folsom suggests that you allow us to replace them the minute they show the smallest preliminary warning signs. If the springs break when the door is open, the door could collapse. Our professionals are here to take care of any spring related problem you're experiencing. If you need professional spring related services, don't hesitate to give us a call.
When it comes to your door, we don't settle! We also offer:
Garage Door Off Track Repair
Emergency Broken Spring Replacement
Belt Drive Opener Installation
Part Replacement & Repair