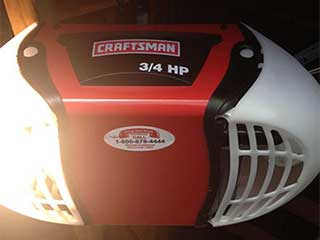 Most residential garage door openers sit fastened against a ceiling mounted angle iron and use a ½ horsepower motor to move the door.
They are one of the most important parts of the entire system because they increase security, convenience, and safety. Most models also integrate a backup battery so that the door will keep working automatically during a power outage. Despite common belief, they are not the components that actually move the door. The springs do the heavy lifting when it comes to that.
Logic Board
This is the box which controls the main opener functions. The brain of the operation, if you will. Everything goes through it, voltage included. The logic board detects the signals sent by the safety sensors and the garage door clicker and then commands the door appropriately. Go. Stop. Reverse.
Garage door Trolley
Most openers work with a trolley system, which operates with a belt, chain or screw drive. The rail, which is used to shield the chain drive, is connected to the motor unit and to the trolley, which is also known as a carriage. The trolley connects to the door with an arm. It pulls the arm to open the door and pushes it to close it down. The emergency release cord hangs from the trolley and is used to disengage and re-engage the operation.
Safety sensors
These sensors are the most important part of the opener. They are the eyes of the system. Installed approximately 6 inches above the floor, they send out an infrared beam which can detect an obstacle – say your child, dog, cat or car – as it passes through the opening, and thus prevent the door from closing and force it to reverse its operation.
Fast Response Service
By offering troubleshooting services, our professionals at Garage Door Repair Folsom can draw the right conclusion to the nature and extent of the current problem you're facing and come up with the best possible solution for it. Be it repair, replacement or just minor maintenance work. Call us about your opener problems!
In addition, count on us for:
Liftmaster Garage Door Maintenance
Genie Garage Door Openers
Oil Tempered Torsion Springs
Bent Garage Door Track Repair