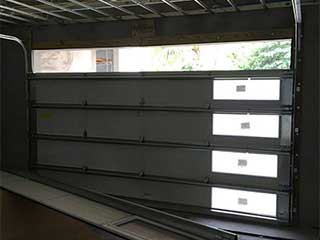 Signs Your Garage Door Needs Assistance
Has your garage door been making a lot of noise as it goes up and down, or maybe it started stopping in the middle of its operation for no apparent reason? Does it shake as it moves as well, or starts to reverse suddenly? These can all be indications that something isn't quite right, and some repair work is in order. These issues can seem to pop up of the blue, but the plain truth is that mere daily use of your door can gradually wear down its different parts. Sometimes other factors can be involved. An accidental bump with our car here, a rough rain storm there, and all of a sudden you find yourself facing an unexpected malfunction. While it may be tempting to just ignore the situation for the time being, doing so can unfortunately lead to even greater damage in the long run.
That's where we come in!
A Team Of Experts At Your Service
We'll determine what the issue is, and then proceed to figure out the best solution for it. We know that you don't want your door to be out of commission for long, especially when your day runs on a tight schedule as it is, so we'll have everything repaired as soon as possible and get out of your hair. But don't worry, we don't value speed over quality, and we never settle for either.
Sometimes replacement is required. When your panels get too damaged, for example. Our professional technicians are more than capable of handling that. Whether your door has torsion or extension springs, we can get the old ones taken out and a new ones installed in no time. Sometimes parts just become loosened or misaligned, and all that's needed is some careful adjustment to get them all back on track.
Contact Us Today!
Our Garage Door Repair Folsom technicians are always happy to help.
We also offer the following:
Torsion Spring Repair & Replacement
Garage Door Opener Track Maintenance
Overhead Door Installation
Garage Door Cable Replacement