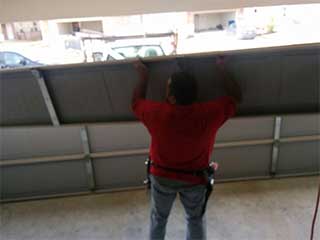 Getting a new garage door isn't exactly topping Santa's most wished for list every year, but here's why it should be! Your door may not be the most glamourous part of your home, but it is a huge part of it nonetheless. Just like people renovate their home every few years, this is also a part of your house that could do with some sprucing up. It's also a gadget of sorts, with newer technologies coming out every year. Read on to find out what our Garage Door Repair Folsom experts say are the four biggest reasons why you should consider replacement.
Wear and Tear

We're starting off with the simplest reason. Maybe your garage door has just gotten a little rough around the edges. Or maybe it came with the house and isn't particularly suiting to your taste. Maybe you've been thinking about getting it repainted for a while now, but you keep putting it off. Whatever the case, a sleek new door can be just the thing to liven up the outside of your home and make it feel special. To add to this, resale value can go up by quite a lot. If you're ever looking to sell your house this is one of the first things you should consider.

Updated Home Security

A worrisome amount of home invasions actually take place through these doors, and this is because burglars realize these systems are the weakest link of the most homes. People have modern security systems on all doors and windows but rarely on their rickety, decade-old garage door. Modern door models can come with improved security features that may help keep intruders at bay. You can contact us today about installation.

Much Less Upkeep

A new garage door means much less maintenance, and one less thing to worry about throughout your busy day. This is be especially important if you have an older door that's been needing a lot of minor adjustments for a while.

More Efficiency and Less Energy Costs

Older doors rarely have weather stripping, and if yours does, it's likely gotten worn out quite badly by now. New models are not only airtight but also well-insulated, which can reduce energy costs and also protect your property from outside weather conditions.